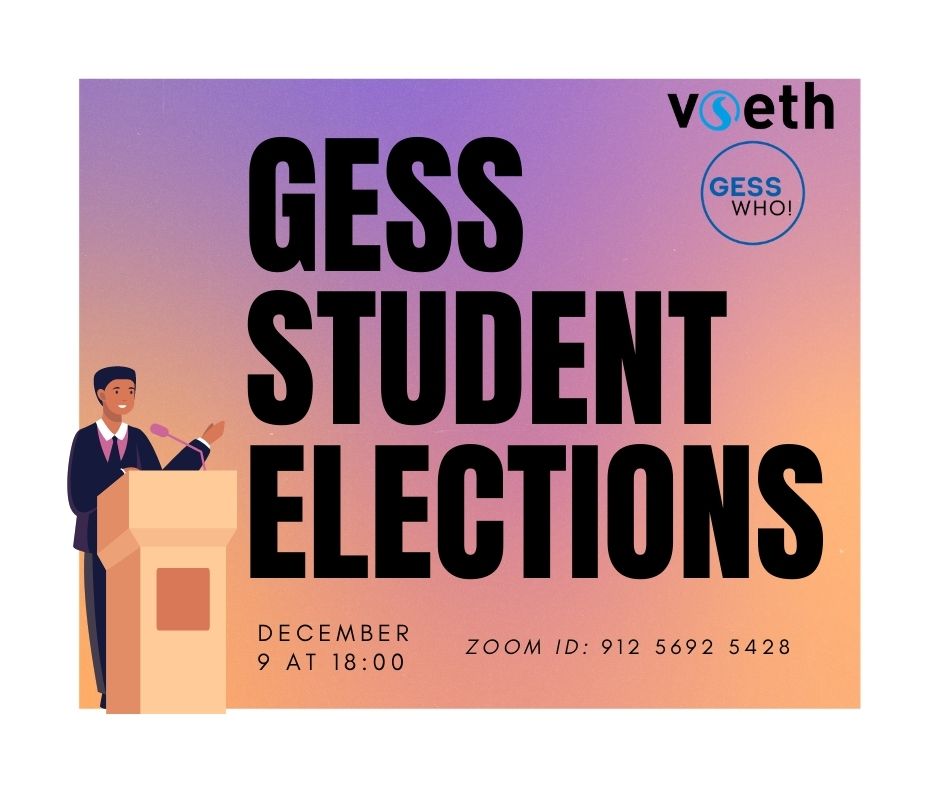 GESS Student Elections (December 9th at 18.00 on Zoom)
Next Wednesday, GESS Who! will be hosting the General Assembly over Zoom on December 9 at 18:00 (link here or ID: 91256925428).  At this assembly, you can run and vote for your new representatives. Please note, you can only run AND vote if you are VSETH student/member of GESS Who! If you're interested, simply come to the meeting and introduce yourself. Below are the positions that you are up for election.
GESS Who! Board
Are you interested in helping organize events like Trivia Night and creating resources like the MACIS Alumni Network for the GESS student body? Then GESS Who! is the place for you!
President – 1 Opening
Vice President – 1 Opening
Treasurer – 1 Opening
Board Members – 6 Openings
Teaching Commission Student Representatives
Are you interested in representing your fellow classmates on issues like course quality and professor-student relationships? Then a position as a Teaching Commission representative might just be the perfect fit!
MACIS – 2 Openings (1 per cohort/year)
MAGPW- 2 Openings (1 per cohort/year)
ISTP – 2 Openings (1 per cohort/year)
Department Conference Student Representatives
Are you interested in giving the GESS student body a voice at the GESS department conference (approximately 4x a year)? Then a position as a Department Conference representative might just be the perfect fit!
Although it would be great for each major to be represented, there are no restrictions for how many representatives can be from the three master's programs.
Auditors
If you're interested in keeping track of GESS Who!'s spending, then a position as an auditor might be right for you! It's not too time consuming throughout the year, but plays an important role in the functioning of our small system!
If you have any questions, please look at the following FAQ or email us at gesswho@ethz.ch
FAQ
I'm interested in running, but do I need to prepare anything?
No! That's the beauty of this system. Simply come to the event and introduce yourself when the Board asks for candidates for a particular position! Please note, though, that only students from particular majors can run for their respective Teaching Commission positions!
What is a Teaching Commission?
Each course of study at the D-GESS has its own Teaching Commission, in which teachers, students and the course co-ordination team are represented. Topics such as the content and duration of the course of study, examination regulations, number of applicants, etc. are discussed. The grading conference also takes place within the UK, but with the exclusion of student representatives.
What is the Department Conference?
The Department Conference is composed of representatives of all D-GESS departments and all hierarchical levels, i.e. all professors, as well as representatives of the middle management, archives, administration, and students. Here, topics are addressed that affect all members of the department (not only, but also the students). In general, this includes the determination of the scientific orientation of the department and thus also the allocation of funds, the invitation of guest lecturers, the awarding of the doctorate, etc.

Published 05.12.2020