General assembly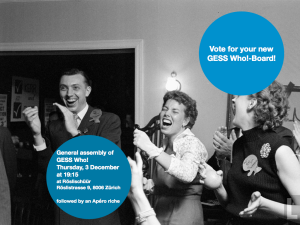 Dear GESS Who! members,
We invite you all cordially to our annual general meeting of GESS Who! on 3 December at 7.15 pm at the Röslischüür (Röslistrasse 9, 8006 Zürich). We will quickly look back at what happened last year at GESS Who! and then we will elect a new board for 2016.
Don't worry, it won't take too long – and afterwards, there will be an apéro riche, with falafel, hummus, and of course free beer!
We're looking forward to seeing many of you!