GeneralversammlungGeneral assembly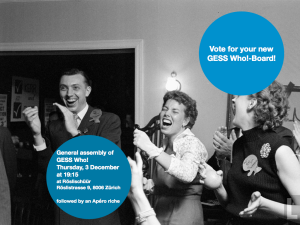 Liebe GESS Who!-Mitglieder,
Ganz herzlich laden wir euch zur jährlichen Generalversammlung des GESS Who! ein!
Am Donnerstag , dem 3. Dezember, um 19.15 Uhr in der Röslischüür (Röslisstrasse 9, 8006 Zürich) stellen wir euch vor, was im letzten Jahr alles gelaufen ist und wir wählen einen neuen Vorstand, der euch durchs Jahr 2016 begleiten wird.
Keine Sorge, das dauert nicht lange – und danach gibt es einen Apéro riche, mit Falafel, Hummus und natürlich Freibier!
Wir freuen uns auf euch, bis dann!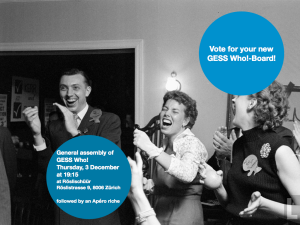 Dear GESS Who! members,
We invite you all cordially to our annual general meeting of GESS Who! on 3 December at 7.15 pm at the Röslischüür (Röslistrasse 9, 8006 Zürich). We will quickly look back at what happened last year at GESS Who! and then we will elect a new board for 2016.
Don't worry, it won't take too long – and afterwards, there will be an apéro riche, with falafel, hummus, and of course free beer!
We're looking forward to seeing many of you!